This homepage is intended as a supplement to Willy CLARYSSE and Dorothy J. THOMPSON, Counting the People in Hellenistic Egypt (Cambridge, 2004). It consists of the following items:
New: corrigenda
For a list of corrections to the printed text, click here (pdf-file).
Plates
Volume I of Counting the People (P.Count) is an edition of 54 Greek and Demotic papyri, some of them quite extensive. In order to save space and money the published volume contains only a few specimens of plates. The others can be consulted on the present website either directly in Leuven or through links to the institutions where the texts are preserved.
Prosopography
All persons mentioned in the texts of Volume I are listed in an exhaustive data base. This database has been incorporated within the Prosopographia Ptolemaica on line (see below), but can also be downloaded as a separate and standalone Filemaker Database: click here (requires FileMaker Pro 7 or higher). In the compressed zip-file, you'll find several Filemaker files, which together form the relational database of all people in P. Count.
Link to the Prosopographia Ptolemaica
All persons in P.Count have been incorporated in and can be accessed through the on line Prosopographia Ptolemaica. This data base contains the same information as the previous one, except for the fields 'language', 'gods' and 'nationalities'. By using the Prosopographia Ptolemaica the adults in P.Count can be placed in the wider context of Ptolemaic Egypt as a whole.
Family Data Base
This is a non-relational data base with all the families in P.Count. It was used for the figures and statistics in Volume II, Chapter 7. The entire database can be downloaded in Filemaker format (requires FileMaker Pro 7 or higher), together with an explanatory Word-document by clicking here.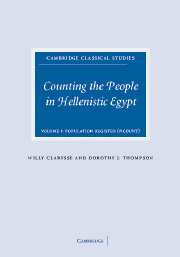 "Counting the People in Hellenistic Egypt"
Cambridge University Press, 2006